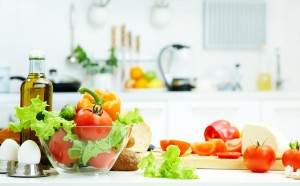 The foods that you choose to have in your diet will have an overall impact in your health for a couple of reasons. The first thing to consider is that a diet which contains healthy fats, lean proteins and fruits and veggies that are rich in fiber will give you a feeling of being full while at the same time consuming less calories. The second thing you should take into consideration is that antioxidants, together with other compounds have their very own benefits. Here are some of the foods to include in your diet for a healthy lifestyle.
Blueberries
If you are in need of increasing the levels of good cholesterol (HDL) and to lower your blood pressure, then you should have a cup of mixed berries daily. Having that amount will ensure that your heart remains healthy, that is according to a study published recently on the AJCN (American Journal of Clinical Nutrition).
Tomatoes
Some rich foods like tomatoes, citrus fruits, broccoli and strawberries could be the secret you have been looking for when it comes to smooth skin. According to studies published in the AJCN, vitamin C helps give your skin a youthful appearance. The research indicates that vitamin C food such as the ones mentioned earlier help prevent wrinkles as well as skin dryness in women.
Watermelon
Watermelon is one of those foods that are excellent for those looking to lose weight. Watermelon gas a high concentration of water lets the person eating it feel full even when the calorie intake has been reduced. The percentage of water in watermelon is 92% and there are other benefits associated with eating it. The fruit is full of red vitamin C which means that it contains lycopene. Lycopene has been associated with a lower risk of heart condition as well as some forms of cancer.
Salmon
An oily fish like salmon and even tuna will help your body be protected against possible UV damage. You do not need to eat a lot of salmon for the protection, because studies have shown that as little as 5 oz. of fish that is rich in Omega-3 helped reduce any development of skin lesions that could lead to cancer. Scientists say that the omega-3s serve as a shield or barrier. They serve to protect cells and their walls from damage that could occur because of UV.
Green Beans
Foods that are rich in fibers such as is the case with green beans are possibly the miracle food that you have been looking for. The consumption of such foods can help you lose weight even if you are not dieting according to publish research on the Journal of Nutrition. The research showed that women who reduced their fiber intake gained weight while those who increased lost it.
The formula that researchers came up with says that during the course of the study an increase in fiber per 1000 calories of 8 grams translated to a total weight loss of a little under 5 lbs.