Benefits of the Bio Mat Amethyst Crystal Bed
Biomat

amethyst beds and amethyst biomat pillows are sleeping aids that contain amethyst crystals which are said to promote restful sleep, joint pain relief, among many others.  Many professionals, like acupuncturists and message therapists are now using these beds and mats to aid their clients in treating their body ailments.  Here are some of the benefits of using the amethyst bed or pad.
These FDA approved devices have been proven to increase circulation, relieve arthritis pain and joint stiffness, help remove toxins from the body, relieve stress and even may help restore damaged and diseased cells in the body.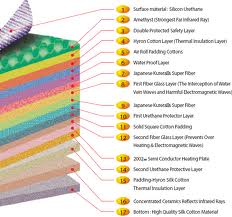 The amethyst crystals are used as light conductors that are heated from 95 – 158 degrees.  Amethyst quartz is used because it healthiest, most powerful way to deliver Far Infrared light waves and frequency of vibrations. The crystal itself also produces Far Infrared light waves.
The crystals line the mattress pillow, mattress pad or massage pad and is heated using a computer controlled panel that converts the electricity into Far Infrared Rays. The result is a current of warm heat that can penetrate eight inches deep into your body tissue, to help release acidity stored in the body.  The temperature settings are manually controlled for the most comfort.
The amethyst biomat pad is used on top of massage tables.  The biomat amethyst bed is a top pillow that covers your beds mattress and is lined with the crystals.  They are topped with a lining of soft cushion for comfortability.
These crystals also release negative ions in the air which can help to relieve allergies, sinuses and migraine headaches.  The restful sleep these aids provide are also useful for people suffering from insomnia.
Biomat amethyst bed pads are being recommended to people suffering from cancer and may reverse some of the effects of chemotherapy on diseased cells without harming healthy cells.  Some advanced chiropractors are now using amethyst biomat pads on their clients for lower back pain.
Mattress pads come in single twin size, queen, king and professional for massage tables. The Biomat Comany also sells an amethyst tourmaline pillow.  These pillows are also lined with amethyst crystal and topped with a soft cloth and help relieve sore neck pain and headaches, including migraines.  The crystal lined pad can be removed from the pillow casing and wrapped around arms, chest, back and legs for more targeted relief.